What do Outreach Volunteers do?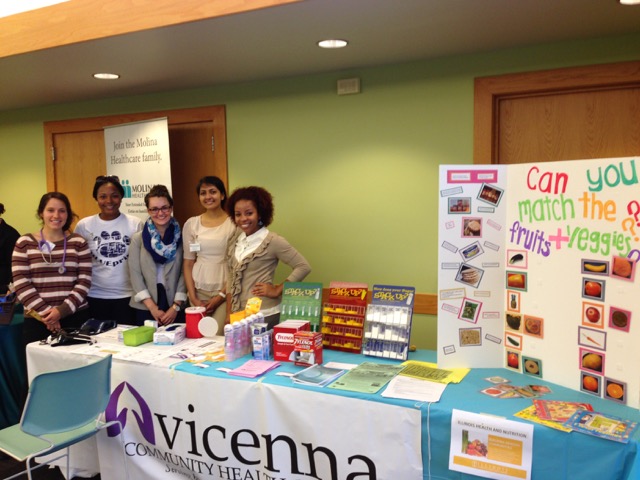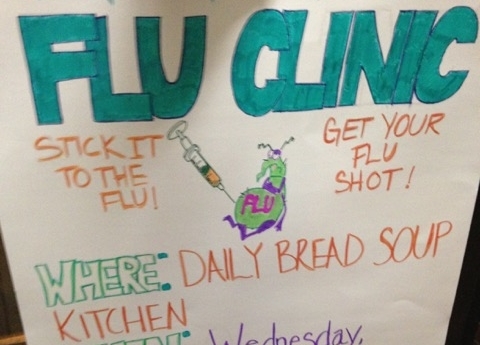 Outreach volunteers are essential to Avicenna Community Health Center.
They spend time in the community in order to help create awareness about our services while building relationships and trust with potential patients.
They provide blood pressure and glucose screenings twice a month at the Daily Bread Soup Kitchen and at many health fairs.
They engage children and adults in conversations about nutrition and teach simple nutrition lessons.
They forge new connections with other community organizations.
They post flyers around town and take time to talk to organizations, local businesses, and individuals.
They seek out opportunities for new projects.
Who can be an outreach volunteer?
You can! We are looking for volunteers of all ages to help us on the outreach team. It takes everyone's help to spread the word about Avicenna's FREE health care services for adults. Our volunteers enthusiastically spread the word because it is easy to promote something that is free and provides quality services community members need.
In order to perform blood pressure and glucose screens, we are looking for professionals working in the community (nurses, medical assistance, CNAs, EMTs) and students who are in the health professions (medicine, nursing, community health, etc.).
When is the Daily Bread Soup Kitchen outreach project?
Avicenna Outreach Volunteers are at Daily Bread Soup Kitchen the 1st and 3rd Wednesdays of each month from 10:30am - 12:30pm. Our volunteers perform blood pressure and glucose screenings, provide information about the clinic, and schedule appointments.
Have an event you would like Avicenna to attend? Submit it below:
Current Outreach Directors
Mia Yu, BA, MD/PhD scholar
Mia is an MD/PhD student at the University of Illinois currently in the process of completing her PhD in Molecular and Integrative Physiology. Her work focuses on the relationship between metabolism and circadian rhythm generation and maintenance in the brain. Mia spent her childhood in China and New Mexico before moving to the East Coast to attend college, where she studied painting and biology. Her great loves are art, cooking, and the outdoors.
Mia joined Avicenna in 2015 as part of the Outreach Team. She especially enjoys representing Avicenna at the Daily Bread Soup Kitchen and is grateful for the relationships she has established with regular patrons. An avid gardener, Mia also organizes and helps maintain plots at the Randolph Street Community Garden to grow fresh vegetables and herbs for patients of the clinic. In her role as Co-coordinator of Outreach, she hopes to expand Avicenna's presence in the community as a source of quality healthcare and health education.
Mia Yu: myu30@illinois.edu
MD/PhD Candidate, University of Illinois at Urbana-Champaign
BA Biology, Amherst College
BA Fine Arts, Amherst College
Petra Majdak, BA, MS, MD/PhD scholar
Petra is an MD/PhD student at UIUC, and is currently finishing her PhD in Neuroscience. Her dissertation is focused on validating a novel model of ADHD to advance our understanding of the genetic causes of the disorder, as well as novel treatments which may more specifically target symptoms of hyperactivity and impulsivity.
Petra originates from New York City. She moved to Champaign-Urbana in 2011, and while she misses the hustle of city life, she loves the charm of the C-U community, the people she has gotten to know over the years, and especially her newly adopted dog. Petra joined Avicenna as part of the Intake Team in Fall 2015, and enjoyed her experience so much she continued volunteering as part of the Outreach Team in Spring 2016. Now as an Outreach Co-Coordinator, Petra is excited to help advance Avicenna's mission by widely disseminating resources that empower uninsured individuals to access and benefit from Avicenna's excellent healthcare services.
Petra Majdak: pmajda2@illinois.edu
MD/PhD Candidate, University of Illinois at Urbana-Champaign
MS Biomedical Sciences, Icahn School of Medicine at Mount Sinai
BA Biochemistry, Manhattanville College
Current Outreach Volunteers
Erika Becerra
Hailey Blisset
Kamila Budek
Angelica Cabrera
Olivia Cangellaris
Delaney Corbitt
Sandra Folarin
Sam Gehlbach
Audrey Gomez
Vanessa Kalinowsk
Ben Kay
Ahmed Khan
Yujin Lee
Natalie Maltby
Nataly Quito
Natalia Wojnowski
Previous Outreach Director
Rachel Waldemer-Streyer, BS, BA, MD PhD scholar
Rachel is a member of the MD-PhD program at the University of Illinois, and is currently working on finishing her PhD in Cell and Developmental Biology. Her work focuses on the cellular signals that regulate muscle healing and growth. She is a native St. Louisian who is happily settled on this side of the river, but still misses Imo's pizza.
Rachel joined Avicenna in early 2015 as an Intake volunteer. She loves getting to know the patients at the clinic and feels privileged to hear their stories and walk with them on the path to better health. Now serving as the Outreach Coordinator for Avicenna, Rachel is always excited to engage the Champaign-Urbana community and spread the word about the great healthcare we provide. If you are running an event and would like Avicenna to attend, please contact her at Info@avicennahealth.org. We would be happy to bring our volunteers to do health screenings, set up interesting nutrition information, and provide information about our services.
M.D.-Ph.D. candidate, University of Illinois
B.S. Biology, University of Missouri - Kansas City
B.A. Chemistry, University of Missouri - Kansas City
B.A. Spanish language and literature, University of Missouri - Kansas City